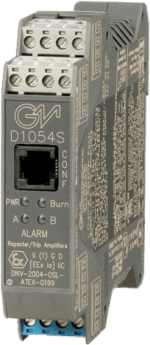 Images are representations only.
1 CH, 0/4-20 MA TX REPEATER, POWER SUPPLY, AND TRIP AMPLIFIER
Part Number:
D1054S
Brand:
G.M. International srl
Passive Wave Division Multiplexer: WDP8A-L
Description
The single channel DIN Rail Repeater Power Supply and Trip Amplifier D1054S, provides a fully floating dc supply for energizing conventional 2 wires 4-20 mA transmitters, or separately powered 3, 4 wires 4-20, 0-20 mA transmitters located in Hazardous Area, and repeats the current in floating circuit to drive a Safe Area load. Output signal can be direct or reverse. The circuit allows bi-directional communication signals, for Hart-Smart transmitters. Two independent Alarm Trip Amplifiers are also provided. Each alarm energizes, or de-energizes, an SPST relay for high, low, low-startup or burnout alarm functions. The two alarm relays trip points are settable over the entire input signal range.
Features
Input from Zone 0 (Zone 20), Division 1, installation in Zone 2, Division 2. 
4-20 mA loop or 0/4-20 mA externaly powered Input Signal. 
0/4-20 mA, 0/1-5 V, 0/2-10 V Output Signal linear or reverse.
Wide Band Smart Communication, Hart compatible.
Input and Output short circuit proof.
Two independent trip amplifiers.
Output for burnout detection.
Common burnout detection available when using Power Bus enclosure.
High Accuracy, μP controlled A/D converter.
Three port isolation, Input/Output/Supply.
EMC Compatibility to EN61000-6-2, EN61000-6-4, EN61326-1
Fully programmable operating parameters.
High Reliability, SMD components.
High Density, one channel, 2 trips per unit.
Simplified installation using standard DIN Rail and plug-in terminal blocks.
250 Vrms (Um) max. voltage allowed to the instruments associated with the barrier.