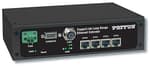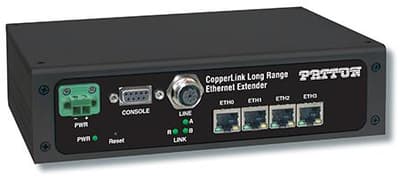 Images are representations only.
Industrial Grade, Long Range-Bonding Wire-Bonding Ethernet Extender
Brand:
Patton Electronics
Description
Patton's robust and reliable CopperLink 2300E Light Industrial Ethernet Extender delivers bandwidth greater than 60 Mbps in point to-point topologies. Extend Ethernet segments to IP-enabled devices or remote LANs using existing copper infrastructure. Often used for LRE (Long Range Ethernet), the CL2300 is also an excellent solution for point-to-point connectivity for noisy environments or questionable cable quality.

The CL2300E employs wire-bonding technology to combine up to 4 wire pairs into a single Ethernet connection with superior speed and distance performance. Each pair provides bandwidth ranging from 5.7 Mbps to 15.3 Mbps depending on segment length. CopperLink devices are engineered for reliability and ease of use. In the default plug-and-play mode, installers need only connect the cables and power up. Patton's auto-rate adaptation feature negotiates the best-possible rate and reach for each wire pair.

The six user-selectable line-rate modes and all pair-bonding settings are configurable, so users can control the rate/reach combination for specialized applications. Should one wire-pair fail, the CL2300E will automatically adjust the line rate to ensure a stable connection.
Features
Bandwidth Rich—Bond up to 4 twisted pairs to achieve the desired rate and reach.


1 Pair: 5.7 to 15.3 Mbps
2 Pair: 11.4 to 30.6 Mbps
3 Pair: 17.1 to 45.9 Mbps
4 Pair: 22.8 to 61.2 Mbps

Operates Over Twisted Pair—Realize fiber-optic speeds without the expense—and hassle—of installing new cables or line-of-sight wireless circuits.
Plug and Play—Set these units up straight out of the box. No configuration is required. Auto-sensing 10/100 Ethernet ports support full or half duplex operation.
Multiple Line Rates Supported—Switch-selectable rate mode options optimize rate and reach for the noise environment, wire gauge/type and length.
Transparent LAN Bridging—Bypass network configuration requirements by transparently passing all higher layer protocols—including 802.1Q VLAN frames (tagged and untagged).