Images are representations only.
1 CH, 0/4-20 MA TX REPEATER, POWER SUPPLY, AND TRIP AMPLIFIER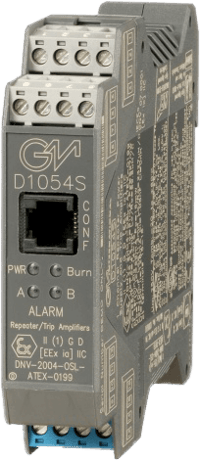 The single channel DIN Rail Repeater Power Supply and Trip Amplifier D1054S, provides a fully floating dc supply for energizing conventional 2 wires 4-20 mA transmitters, or separately powered 3, 4 wires 4-20, 0-20 mA transmitters located in Hazardous Area, and repeats the current in floating circuit to drive a Safe Area load. Output signal can be direct or reverse. The circuit allows bi-directional communication signals, for Hart-Smart transmitters. Two independent Alarm Trip Amplifiers are also provided. Each alarm energizes, or de-energizes, an SPST relay for high, low, low-startup or burnout alarm functions. The two alarm relays trip points are settable over the entire input signal range.