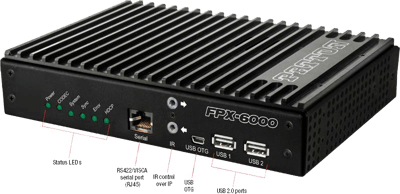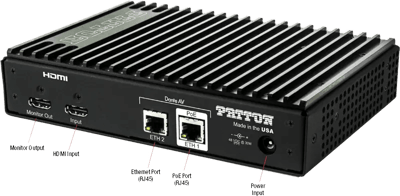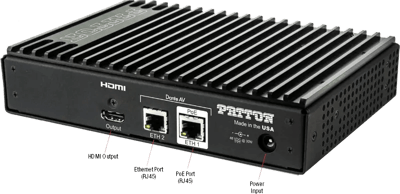 Images are representations only.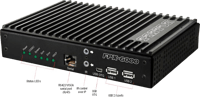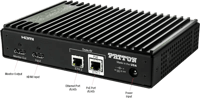 Patton's FPX6000 enables Dante AV with 8 audio channels (transmit or receive) and 1 HDCP encryption support video channel (transmit or receive) to be easily inserted onto an existing Ethernet network backbone without suffering the performance issues and management difficulties associated with audio and video over IP.

Dante's sub-microsecond synchronization of audio and video eliminates alignment problems. Dante AV uses a single network clock for the entire system in sync regardless of the number of endpoints, transporting audio and video with low deterministic latency.

In addition to providing high performance Dante AV with audio/video-over-IP, the FPX6000 is loaded with peripheral connectivity options including USB 2.0 and USB OTG for keyboard and mouse, infrared for remotes, even serial signals for PTZ control and more… all over IP!

The Controller makes routing, controlling and monitoring your audio and video traffic and endpoints as simple as clicking a button.
Features
Perfect Audio and Video Synchronization - Utilizing a Single Network Clock, Independent routing of Audio and Video anywhere on the network while maintaining perfect synchronization.
Trusted Dante Audio - Dante protocol timing and synchronization significantly reduces harmonic distortion and phasing caused by jitter, wander and delay typically found on standard Ethernet networks.
Supports Mixed Networks - Dante ensures that your time-sensitive audio/video streams always get enough reserved bandwidth even while on a standard Ethernet network.
Expanded Coverage - Break away from legacy point-to-point topology. With unicast and multicast, command, control and reliability for distributed audio video systems is made simple tapping into already existing Dante-enabled Ethernet networks.
Interoperability -


Instantly connect to any Dante-enabled products currently available today
HDCP2.3 over IP compliant
FPX6000R/A3/PD48
Transmitter or Receiver: Transmitter
$2,987.83
CAD
$56.02 Shipping
FPX6000T/A3/PD48
Transmitter or Receiver: Receiver
$2,987.83
CAD
$56.02 Shipping