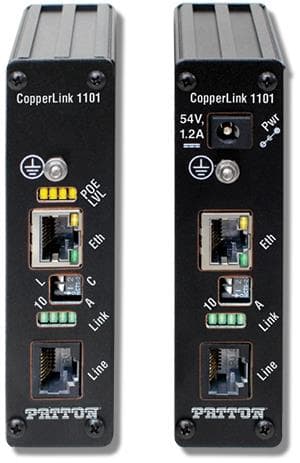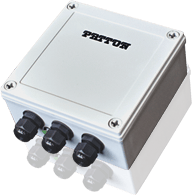 Images are representations only.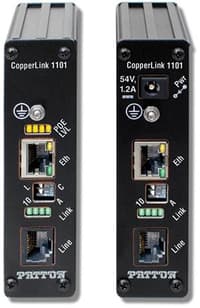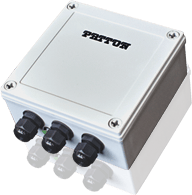 The Patton Ethernet Extenders enables Ethernet connectivity over previously installed copper infrastructure. The solution breathes new life into circuits previously deployed for such traditional non-IP applications as RS232/485 HVAC and building automation controls, alarms, CCTV, analog phones, intercom speakers, and others.

Instantaneously install PoE-capable devices such as wireless access points (WAPs), IP cameras, IP telephones, IP door stations, HVAC controls, LED lighting and more—with no additional overhead cost. With the extended reach, you can install your IP terminal equipment exactly where you want it! Flexibility of device location is paramount in such applications as building security, where increased perimeter dimension and expanded spot coverage area are critical.
Features
Ethernet Extension—Extends 10/100Base-TX industrial Ethernet and Ethernet-over-coaxial over 3,300 feet (1005 meters) using 2-wire, 24-AWG twisted-pair, Cat 3, Cat 5e/6/7, or coaxial cable.
Delivers PoE—PowerPlus technology powers up both the remote CopperLink extender and the PoE enabled device connected to it. No power is required at the remote location.
Transparent LAN Bridging—Will pass higher-layer industrial Ethernet protocols such as BACnetIP, EtherCAT and Modbus TCP.
Plug and Play—Modems need no configuration to operate, Ethernet ports are auto-sensing 10/100, full or half-duplex.
Overvoltage Protection—Overvoltage protection on Line and Ethernet ports prevents damage from ESD (electrostatic discharge), CDE (cable discharge events), and lightning.
9 models matching criteria
CL1101E/R/PAFA/BNC/E
Industrial CopperLink PoE Remote Extender; 1x 10/100; 802.3af (mode A); BNC Line; Line Powered
$588.23
CAD
$56.02 Shipping
CL1101E/R/PAFA/RJ45/E
Industrial CopperLink PoE Remote Extender; 1x 10/100; 802.3af (mode A); RJ45 Line; Line Powered
$588.23
CAD
$56.02 Shipping
CL1101E/L/P/BNC/EUI
Industrial CopperLink PoE Line Power Local Extender; 1x 10/100; BNC Line; 100-240VAC
$627.44
CAD
$56.02 Shipping
CL1101E/L/P/RJ45/EUI
Industrial CopperLink PoE Line Power Local Extender; 1x 10/100; RJ45 Line; 100-240VAC
$627.44
CAD
$56.02 Shipping
CL1101E/IP67/R/PAFA/3CG/E
Outdoor CopperLink PoE Remote Extender; IP67; 1 x 10/100; 802.3af (mode A); 3 cable gland; Line Powered
View More
Indoor Vs. IP67 - Rugged, IP67
Local Extender vs. Remote Extender - Remote Extender
$721.56
CAD
$56.02 Shipping
CL1101E/IP67/L/3CG/EUI
Outdoor CopperLink PoE Local Extender; IP67; 1 x 10/100; 802.3af (mode A); 3 cable gland; 54VDC Input; 100-240VAC to DC Adapter
View More
Indoor Vs. IP67 - Rugged, IP67
Local Extender vs. Remote Extender - Local Extender
$752.93
CAD
$56.02 Shipping
CL1101E/PAFA/BNC/EUI-2PK
Industrial CopperLink PoE Extender Kit; 1x 10/100; 802.3af (mode A); BNC Line; Line Powered; AC Adapter 100-240VAC
$1,215.67
CAD
$56.02 Shipping
CL1101E/PAFA/RJ45/EUI-2PK
Industrial CopperLink PoE Extender Kit; 1x 10/100; 802.3af (mode A); RJ45 Line; Line Powered; AC Adapter 100-240VAC
$1,215.67
CAD
$56.02 Shipping
CL1101E/PAFA/TB/EUI-2PK
Industrial CopperLink PoE Extender Kit; 1x 10/100; 802.3af (mode A); 2 Position Terminal Block; Line Powered; AC Adapter 100-240VAC
$1,215.67
CAD
$56.02 Shipping