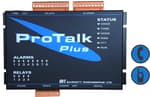 Images are representations only.
Please create quote for pricing
Description
The ProTalk Plus helps to avoid costly downtime and disasters by providing early detection of trouble conditions with your critical equipment. Alarms can be automatically announced over any combination of telephone, radio or public address system. All operating parameters, including voice messages, are fully programmable locally or remotely. By adding up to seven B1292 ProTalk Expanders, the ProTalk Plus can monitor up to 64 digital inputs and 32 outputs.

The ProTalk Plus is a device used to monitor alarms at an unattended or low staffed site. Interfacing with your existing sensors, the ProTalk Plus watches for conditions that occur outside your predefined parameters. If an alarm occurs, such as power failure, building intrusion or equipment failure, the B1290 automatically dials out on the telephone line. When the phone is answered, the B1290 announces the name of the site and alarm condition that has occurred. If there is no answer or the alarm is not acknowledged, the B1290 will continue to dial through the programmed list of phone numbers until it reaches someone and is able to report the alarm.

The B1290 ProTalk Plus can be programmed to perform many more functions at the discretion of the user. It can:

announce alarms over radio, telephone, public address system or any combination thereof.
be programmed to send coded tones along with the voice messages to activate such devices as radio pagers, relays or annunciator panels.
be used as a master station to concentrate alarms from a number of remote sites.
be commanded to perform remote control functions by receiving codes from a tone telephone.
use up to 4 directories and shifts to customize the callout based on alarm grouping or time of day.
accept up to 7 expanders; increasing the capacity of the unit from the basic 8 alarm inputs and 4 relay outputs up to 64 alarms inputs and 32 relay outputs.
log events into a report which can be read from the B1290 and saved to file.
require an access code for dial-up access to programming.
function in extreme temperatures of -40°C to +60°C (-40°F to 140°F).
The B1290 ProTalk Plus is an alarm dialer with a long standing history in industrial applications and is known for its quality and durability. Its predecessor, the B1270, is still in operation in locations across North America.
Features
Alarm Inputs

8, optically isolated, 2 mA to operate. Ground closure causes voice and signaling transmissions
Expandable with the addition of up to seven B1292 Expanders
Plug-in screw terminal block accepts AWG 26 to 12 wire
Control Outputs

4 independent Form C outputs controlled by programmable DTMF codes; optionally configured for automatic activation upon receipt of inputs; voice announcement when operated; plug-in screw terminal block accepts AWG 26 to 12 wire; 1 A at 30 VDC each or 0.3 A at 120 VAC
Telephone Connection

PHONE - RJ11; tone or pulse line, POTS interface
Programming Ports

PGM - RJ11; connects to DTMF capable phone for voice recording and programming
USB - for database programming and Event Log retrieval
Radio

Speaks voice messages
Transmit numeric pages
2 or 5 tone paging
Radio Signalling

Singletone, DTMF, 2 tone paging, 5 tone paging