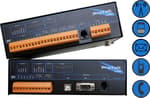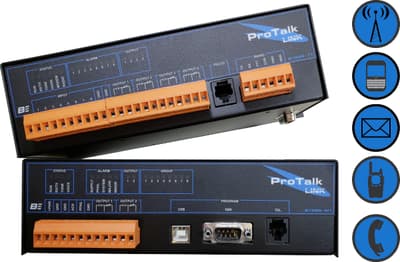 Images are representations only.
Description
The ProTalk Link provides a flexible, effective solution to a wide variety of alarm monitoring situations. Each system consists of one main module and at least one communication module. The systems can be further expanded using any combination of the available digital, analog or PLC expansion modules. Alarm notifications can be sent via phone, text, email, radio or PA system. Remote alarm acknowledgement, system interrogation and relay control is possible via phone and text.

The ProTalk Link is a modular alarm auto dialer. Cellular dialing, SMS text, public address announcements, PLC integration, remote programming, callout redundancy, expansion capabilities - ALL are possible with the ProTalk Link.

In its simplest form, the ProTalk Link consists of one B1285-M1 control module and one communications module (B1285-T1 - landline or B1285-W4 - cellular). This setup will provide you with a callout, 8 discrete inputs and 4 relay outputs. You can add a complimentary communications module to provide backup alarm dialing in the event of a primary failure. Your choice in communications module will determine your available callout methods - landline calls & PA announcements OR cellular calls, SMS text & email.

Complex systems require flexibility. You can further expand the ProTalk Link using any combination of our 3 available expansion modules to a maximum of 16 total modules. The B1285-D1 Digital expansion module provides 16 discrete inputs and 4 reset inputs allowing you to reset the status of any totalizer or accumulator inputs. The B1285-A1 Analog expansion module provides 8 current loop inputs (4-20mA) and 8 voltage inputs (0-30V). The B1285-P2 PLC expansion module offers the most in terms of inputs (up to 480 points). Choose from a variety of protocols including Modbus RTU or TCP/IP, Allen Bradley DF1 or Ethernet/IP.

Operation of the ProTalk Link is similar to other units in the ProTalk line of alarm dialers.

When an alarm condition occurs, such as, high or low temperature, power failure or equipment upset, the ProTalk Link automatically places calls to inform people of the situation. In the case of unanswered calls, the ProTalk Link will continue to dial through a list of programmed numbers until it successfully reaches someone and is able to report the alarm.

The B1285 ProTalk Link is very versatile and can be programmed to perform many more functions at the discretion of the user. It can:

announce alarms over telephone, text, radio, PA, email or any combination thereof.
be programmed to send coded tones along with the voice messages to activate such devices as radio pagers, relay and annunciator panels.
perform remote control functions automatically by using up to 10 relay outputs or manually by receiving user defined DTMF codes.
use up to 8 alarm groups and 8 shifts to organize alarm callouts based on common alarms or time of day.
be customized to suit most applications using a combination of callout units and expansion modules
accepts both cellular and land line callout modules to provide reporting redundancy
announce a module failure in the event of a B1285-M1 main module failure using autonomous mode
email a daily activity summary report to notify you of all recorded activity
email and/or text notifications when alarms are announced, cleared and/or acknowledged (for informational purposes only).
email, text and/or phone regular status reports including alarm status and enabled point values
define security levels for incoming calls and text messages.
require an access code for phone or text access to programming.
function in extreme temperatures of -40°C to +60°C (-40°F to 140°F).
The ProTalk Link brings the most in application compatibility and customization and continues the ProTalk trend of industry leading industrial alarm dialers.
Inventory
6 models matching criteria