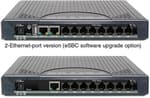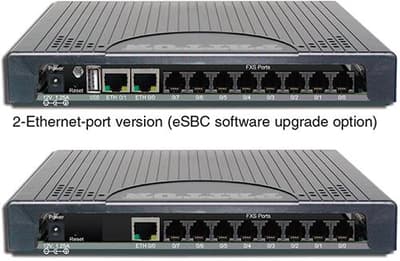 Images are representations only.
Description
The SmartNode 4140 Series of VoIP Media Gateways support up to eight phone or fax calls. The SN4140 is the perfect choice for All-IP applications where either old, non-replaceable telephones have to be integrated into a UCC environment, or for good old fax devices to be migrated to the next-generation network infrastructure.

Patton's SmartNode 4140 Series delivers the legacy phone interfaces, service transparency, and flexible integration required for All-IP networks.
Features
Up to 8 Analog interfaces (FXS/FXO)—2, 4 or 8 Analog ports. Either FXS or FXO or a combo configuration. Up to 8 G.722/G.711 or T.38 calls simultaneously.
Advanced Local Call Switching—Virtual interfaces and routing tables provide industry leading flexibility in call handling programming.
Local call switching, soft fallback to alternative routes.
Simultaneously connects to multiple SIP services/IP PBXs.
Network Monitoring—Embedded Patton Cloud network monitoring 24x7.**
Management & Provisioning—Web Wizard for ease of use, SNMPv3, TR-069, command line interface, secure zero-touch provisioning, separate config. domain, secure provisioning of configuration and software.
Proprietary OS—Utilizes proprietary Trinity™ software for enhanced security.
Full VoIP protocol support—SIPv2, SIPv2 over TLS**, T.38, G.722 HD voice, RTP security with SRTP**, fax and modem bypass, DTMF relay.
Survivability & Local Breakout—Resiliency or local breakout for the enterprise thanks to onboard FXO ports.
Optional eSBC upgrade for FXS VoIP Gateways with 2 Ethernet Ports—Models containing "SN4141/2ETH" can be converted into high performance enterprise session border controllers (eSBC) simply by purchasing a software license. This capability prepares your voice network for next-generation SIP services and security.
For details about the upgraded SN4141 eSBC's capabilities, refer to the model SN5541 eSBC specifications.

Inventory
16 models matching criteria
Applications
Typical Applications
In All-IP networks as well as during the migration to the next generation communication network, legacy telephone equipment will remain for quite some years. The SmartNode 4140 Series will be responsible integrating this equipment at a very low cost for the enterprise. With its modem and fax signal to VoIP conversion capabilities it also helps to solve problems integrating PoS, metering systems, elevator phones, etc., into an All-IP environment.