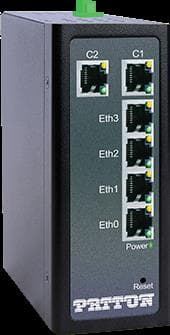 Images are representations only.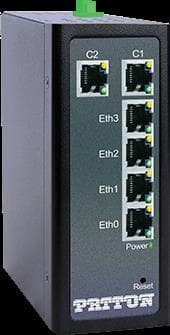 The CL1314MDE Multi-Drop Ethernet Extender used in conjunction with the CL1314R makes Ethernet extension a breeze. The MDE series of Ethernet Extenders allows users to replace their legacy serial coms with cost-effective Ethernet (IP) that is easy and inexpensive to set up. Featuring plug-and-play installation, the CL1314 MDE leverages existing copper twisted-pair infrastructure to interconnect Ethernet devices and networks at moderate speeds over long distances. The MDE Extender not only allows multi-drop functionality but also serves a repeater function doubling your maximum distance at every hop.

Operating over standard 0.5 mm (24 AWG) voice-grade wiring, the CL1314MDE delivers speeds up to 15.3 Mbps and extends Ethernet connections across distances up to 10 km (6.2 miles) per hop. Whether you need connect to a remote offices, kiosks, guard stations, train stations, digital sensors or IP cameras—Patton Ethernet Extenders offer the industry's optimum combination of speed and distance. Patton's CopperLink Ethernet Extenders ensure hassle-free set-up and operation, while achieving the highest possible line rate for the required distance and electro-magnetic environment. Users can "hard-set" the desired line rate via DIP switch, GUI or console Telnet.
Features
High Speed Extension—Achieve up to 15.3 Mbps over 1 (2-wire) pair or 30 Mbps over 2 (4-wire) pairs.
Flexible Uses—Can be used as a long distance Ethernet extension (repeater) and/or in Multi Drop Ethernet applications.
Multi-rate Selection—Just plug the units in and select the ideal user-configurable rate for your application.
CopperLink 2-Wire Connection—Easy 2-wire CopperLink connection via built-in RJ-45 ports.
Extended Temperature— -40 to 85°C operation.
Ruggedized—Operating temperature of -40 to 85°C and optional conformal coating to protect against condensing humidity and corrosion.
Transparent LAN Bridging—Transparently pass higher-layer protocols with support for 802.1Q VLAN tagging.
Automatic Learning, Aging, and Filtering—Keeps local traffic local, ensuring efficient utilization of the long-range link.
CL1314MDE/DC
CopperLink Ruggedized Long Range Multi-Drop Ethernet Extender; 2 x 1 pair; 4 x10/100; -40 to 85C; internal +12 to +48 VDC
$1,640.64
CAD
$56.02 Shipping
CL1314MDE/EUI
Ruggedized 5.7 Mbps CopperLink Multi-Drop Ethernet Extender; 2 x CopperLink; 4 x10/100; -40 to 85C; 100-240VAC
$1,640.64
CAD
$56.02 Shipping
CL1314MDE/CC/EUI
Ruggedized 5.7 Mbps CopperLink Multi-Drop Ethernet Extender; Conformal Coated; 2 x CopperLink; 4 x10/100; -40 to 85C; 100-240VAC
$1,774.02
CAD
$56.02 Shipping
Model CL1314MDE ruggedized multi-drop Ethernet extenders are ideal for delivering drop add Ethernet links to multiple remote locations that are beyond the 328-foot (100-meter) distance limit of Ethernet. The 15.3 Mbps throughput eliminates bandwidth concerns previously experienced with other legacy copper wired transmission technologies.

The CL1314MDE includes several user configurable line rates so that a user will get a consistent link, even in noisiest environments. Using existing voice-grade copper pairs or legacy serial circuits eliminates the expense and hassle of installing low capacitance or fiber cable.