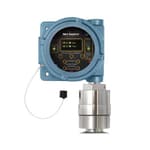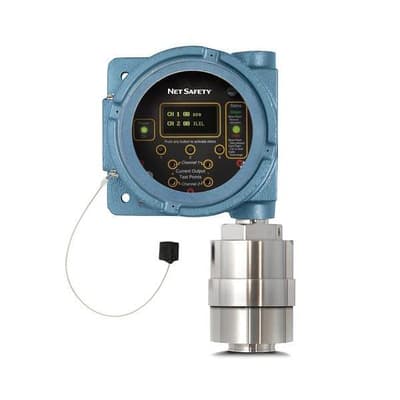 Images are representations only.
Millennium II Gas Detection Transmitter
Part Number:
M22-AD-S.SC310S-100-ASSY.ST322S-100-ASSY.JB-MPD-S
Brand:
Emerson Electric Co.
Millennium II Gas Detection Transmitter
Description
Open Box

The Millennium II (M22) dual channel universal transmitters have been engineered from the ground-up to include the innovative features that managers and operators in the field demand, while providing rock solid day-to-day operation, even in the most extreme conditions. The Millennium II redefines what you expect from a fixed gas detection solution.

M22-AD Dual Channel - Analog & Modbus

SMART Sensor Technology — Compatible with All Sensor Types (Infrared, Catalytic Bead, Electrochemical, and NE-MOS)
-55°C to +85°C Temperature Range
Lowest Power Consumption Available
Mix and Match All Sensor Types on a Single Transmitter, Greater Coverage and Flexibility
Full Diagnostics with Event and Data Logging
Wide Voltage Range Allows For Greater Stability and System Compatibility
Intuitive Menu System, Simple Set-up/Calibrations
Field Selectable Gas Curves and Ranges
Long Range (+2000ft.) Sensor Separation
With:

SEPARATION BOX: JB-MPD-S. Digital Output Stainless Steel: Class 1, Division 1, Groups BCD - Class 1, Zone 1 -- Enclosure rated NEMA 4X, IP67 (See man-0081 for full specifications)

Net Safety ST3 XChem Toxic Gas Sensor: ST322S-100-ASSY

Catalytic Bead Combustible Gas Sensor: SC310S-100-ASSY
Features
SMART Sensor Technology The transmitter can be fitted with a wide range of toxic and/ or combustible gas sensors. SMART (Self Monitoring Analysis and Reporting Technology) sensors are pre-calibrated and easily connected to the transmitter which recognizes a newly fitted sensor, automatically uploading it's specific configuration profile. 

Digital Communications Sensor and transmitter continuously communicate digitally, giving you the confidence of stable, accurate protection with fast response times even over long separation distances. 

Global Certifications The Millennium II is approved to international hazardous area safety standards for operation and performance. 

Easy To Use Menus English, French, Portuguese or Spanish display languages included. The full text menu makes installation, operation and calibration simple. No manual necessary! 

Superior OLED Display The only full graphic OLED display available, easy to read in all ambient lighting conditions and operates down to -55°C! 

Analog, Relay, Modbus® RS485 RTU Multiple communication protocols allow the M22 to work seamlessly with your new or existing system. 

Field-proven Sensor Innovations All of our sensors are engineered to be fast and reliable with field-proven performance in the harshest industrial conditions possible. These include Nano-Enhanced Metal Oxide Semiconductor (NE-MOS) toxic gas sensors that do not "fall asleep" and a full range of fast response Electrochemical toxic gas sensors. For combustible gas detection, poisonresistant Catalytic Bead technology with SensorGuard, which greatly prolongs sensor life and Infrared sensor technology utilizing a dual beam design with no mirrors that can become contaminated ("fogged up") or misaligned.