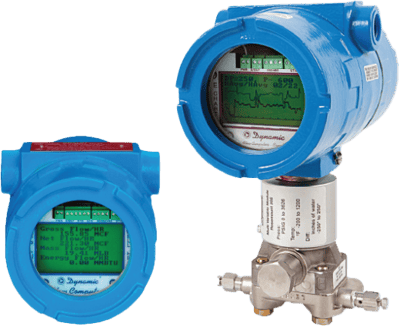 Images are representations only.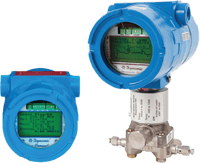 The E-Chart P2DAAA is a field mounted flow computer with a built in Rosemount® 205 Multivariable Transmitter (DP, P and TEMP) for custody or non-custody transfer measurements. It is a single bi-directional meter run computer that can be used in gas or liquid applications. Multiple primary elements and density equations are supported. A unique graphical interface allows users to have up to three trend screens with two user selectable parameters per screen. This mimics a chart recorder display and allows users the ability to get at-a-glance information concerning their flow conditions.

The E-Chart P2DAAA calculates all the necessary standard equations (AGA, API, ISO, NIST, etc.) for liquids & gases. Monthly, daily, or hourly reports are stored in flash memory. If you include the E-Chart P2DAAA's impressively low power consumption, battery back-up capabilities, solar power options, and built-in wireless communications the E-Chart P2DAAA proves itself to be the number one flow computer for all applications.
Features
Low operating power (o.3 watts)
0.0t5% accuracy
32 bit processor
64X128 programmable display
Min-max charting
Wireless radio/modem ready
Multiple I/O options
Custody transfer accuracy
Built-in multivariable 3-in-1 transmitter
Smart field I/O
E-Chart P2DAAA
a field mounted flow computer with a built in Rosemount® 205 Multivariable Transmitter (DP, P and TEMP) for custody or non-custody transfer measuremen
$3,745.57
CAD
$2,997.73
CAD
Clearance
Does not ship to VA, US
Liquid and gas measurement
Well head measurement and automation
Custody measurement and control
Compressor Stations
Well optimization
PID control
Field mounted trending
Multiple primary elements
Injection index testing