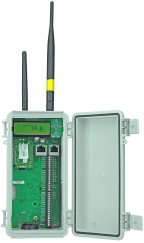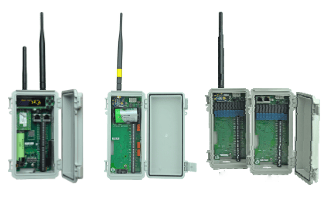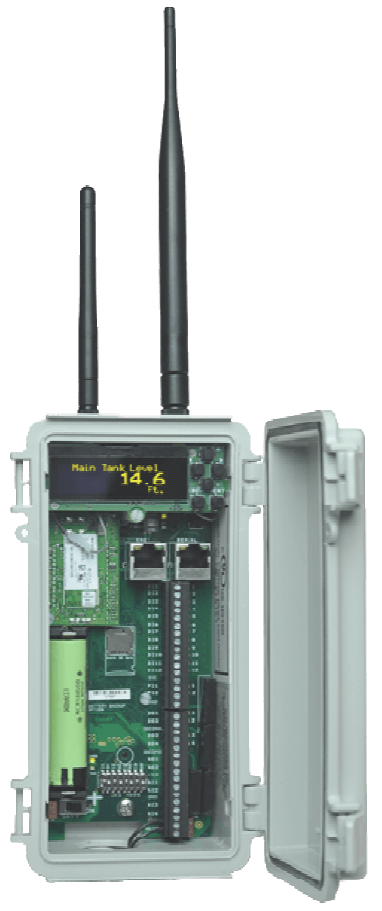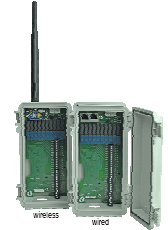 Images are representations only.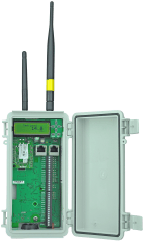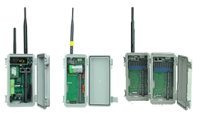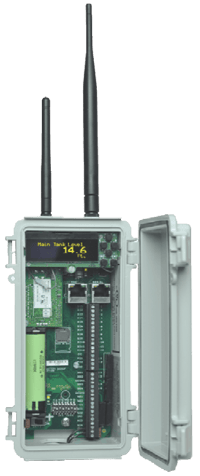 Scadaflex II controllers are 100% web based for both configuration and user interface. No applications are required other than any standard web browser. They are easily supported by remote access over the Internet or a cellular link.

Scadaflex II controllers support industry standard wired communications using Modbus, DF1, SNP, and Ethernet IP protocols along with Ethernet-Serial bridging for Modbus or any other protocol. Each Scadaflex II controller has both analog and digital, inputs and outputs, sufficient for pumping stations, irrigation controls, and other similar process monitoring and control applications. They can also serve as communications concentrators and protocol converters that enhance the operation of existing PLCs and process equipment.

Scadaflex LPR modules are ultra low power wireless remote I/O devices in NEMA 4X enclosures that extend the I/O capacity of Scadaflex II and Modulus SCADA controllers via a license-free radio network. The built-in radios form a wide-area mesh network of up to 254 sites to cover a large area with minimum power consumption.

Each module in the network automatically serves as a repeater for any other modules that cannot get through directly. Meshing systems are "self healing"; if a node drops out, others take over the message repeater functions.

Scadaflex Remote I/O (RIO) Modules extend the I/O capacity of Scadaflex II SCADA controllers. They are offered in three versions that differ in the type of communications interface.; license-free mesh radio, traditional spread spectrum radio, or a hardwired RS-485 network. The spread spectrum radio and RS-485 versions may also be used with third party equipment since they support standard Modbus RTU communications. The mesh radio version must be used with either Scadaflex II or Modulus SCADA controllers from Industrial Control Links.
Features
Eliminate the need for extra hardware like data loggers, alarm dialers and cellular modems.
Get integrated HMIs at no extra cost, including cell phone, PC and tablet interfaces
Receive alarms and adjust setpoints on your cell phone – a built-in alarm dialer avoids additional costs!
View trend data graphically, or download information into virtually any database management package
Connect virtually any SCADA device with built-in Ethernet, serial and wireless communications support
Enjoy fill-in-the-blank configuration and no licensing fees – fast and easy!
53 models matching criteria
29-1001
LPR (Low Power Remote) 4DI, 2DO, 4AI (5V), 4AI (sensor) + 1/4W Mesh Radio (RP-SMA) w/ 2dB Whip
$1,474.54
CAD
$56.30 Shipping
29-1002
LPR (Low Power Remote) 4DI, 2DO, 4AI (mA), 4AI (sensor) + 1/4W Mesh Radio (RP-SMA) w/ 2dB Whip
$1,474.54
CAD
$56.30 Shipping
$1,474.54
CAD
$56.30 Shipping
$1,474.54
CAD
$56.30 Shipping
$1,608.59
CAD
$56.30 Shipping
$1,608.59
CAD
$56.30 Shipping
29-0002
Scadaflex II Pre-packaged controllers with OPAQUE front covers
View More
Scadaflex Version - Scadaflex II
Front Cover - Opaque
$2,278.84
CAD
$56.30 Shipping
29-0012
Scadaflex Version - Scadaflex II
Front Cover - Clear
$2,278.84
CAD
$56.30 Shipping
29-0002/29-0300
Scadaflex w/ Opaque cover & battery backup
$2,680.99
CAD
$56.30 Shipping
29-0012/29-0300
Scadaflex w/ clear cover and Built-in Battery Backup, up to 14 hr back-up operation with supplied lithium battery
$2,680.99
CAD
$56.30 Shipping